转轨系列产品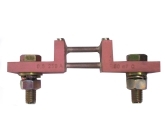 Shunts are being used for the indirect monitoring of high electrical currents. The production of the shunts conform to the requirements of DIN 43704 for currents from 1 A up to 20 kA and voltage drops from 60 mV up to 300 mV.
Upon request additional ranges can be supplied where the nominal values of current and voltage drop deviate from the DIN series.

Function principle:
The current flowing through the shunts create a voltage drop, which can be measured with a measuring device switched in parallel. With parallel switching the shunts and the measuring devices, it is possible to use voltage measurement devices to measure the current, or to gain an extension of the measuring facilities of the existing current measuring units. The shunts are manufactured in three different versions, to accommodate the nominal currents.
如下为系列产品,进一步问题,请联系: +0086 15962515506 季工   sales@mbs-ag.com.cn
| | |
| --- | --- |
| Bauform A - 60mV | Bauform B - 60mV |