MBS CTB系列产品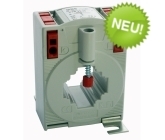 2010年初,MBS开始推出全新一代的互感器产品,CTB系列。
At the beginning of the year 2010, the MBS AG, 'Sulzbach Messwandler' has inaugurated in their product range a new current transformer.
全新一代的CTB产品,最高电压为1.2KV, 同时增加了工作温度,(-5 °C < T < +50 °C)。

UL认证编号: - 20100426-E336996。
This latest current transformer, type CTB, incorporates not only a higher maximum operating voltage (Um < 1,2 kV) but also an increased isolation test voltage (6 kV Ueff, 1 min., 50 Hz) as well as an increased ambient temperature range (-5 °C < T < +50 °C).
The new CTB's connection is arranged with a "cage clamp ®".
The production of the new current transformer is in accordance with the technical characteristics corresponding to IEC 61869-1/2.
UL Certification applied: Certificate Number - 20100426-E336996.
如下为CTB产品系列,如有问题,请联系:+0086 15962515506, 季工, sales@mbs-ag.com.cn