仪表用变压器EASK、EWSK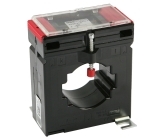 MBS除了生产标准的等级为0.5和1的互感器产品外,还生产 25 A 到 3000 A 电流等级为0.2s, 0.2, 0.5s, 0.5的产品。
Apart of a large range of standard currenttransformers in the accuracy classes 0.5 and 1, the MBS AG, 'SulzbachMesswandler' manufacture an immensely diversified product range of summationcurrent transformers for currents from 25 A up to 3000 A in accuracy classes0.2s, 0.2, 0.5s, 0.5.

MBS获得了国家级证书并被PhysikalischTechnische Bundesanstalt (PTB)批准。
These approbated current transformers have the national certificates of Germanyas well as of other European countries.
The current transformers, which have been approved by the PhysikalischTechnische Bundesanstalt (PTB) Braunschweig (an authorized German testinglaboratory) are recognizable by a stylized S. An 'E' is placed before theusual MBS type mark.
The calibration of the transformers is documented by an official lead seal aswell as an additional affixed yellow calibration stamp. The fees for thecalibration are calculated with the applicable official regulation.

所有的互感器产品都需要获得最高实验室测试标准。

The calibration of the transformers is performed upon request at the 'Staatlichanerkannte Prüfstelle für Messgeräte für Elektrizität EA90' (State ApprovedTesting Laboratories for Measuring Appliances for Electricity EA90) asrepresented by MBS AG.
产品系列如下,如您需要进一步的产品或洽询,请拨打:+0086 15962515506。