MBS喜获德国100强创新企业称号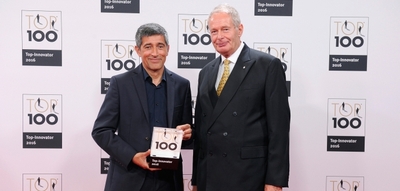 Prof. Wolfgang Gilgen, Chairman of MBS AG with Top 100 mentor Ranga Yogeshwar at the investiture in Essen.
References: KD Busch/compamedia GmbH



For the 23rd year the Top 100 are honoured, the most innovative companies of German Medium Size Establishments. This year MBS AG belongs to the innovation elite. The prestigious Sulzbach-Laufen Organization participated in the rigorous scientific selection process. Innovative management as well as innovative success were examined. The mentor of the team, Ranga Yogeschwar, honoured the Top Innovator at the German medium sized companies summit in Essen on 24 June 2016.

MBS AG conclusively satisfied investigators during the selection process with its multiple successes in the field of Low and Medium Voltage Current Transformers. These products have been sold world-wide since the inauguration of the company in 1977. MBS AG has been celebrated world-wide for its innovative screwless fixing of the terminal. Today MBS AG has 167 employees engaged in working on the right solutions to the needs of every individual customer. The company's main sales are in Europe, but in the Middle East it also leads the market in the Low Voltage Sector. In Germany this family run business has a market share of 80%. "We are known by everybody who is engaged in Energy Management." comments Ivanka Brockmann, its Export Sales Manager.

Together with the MBS Chairman Prof. Gilgen, she co-ordinates the company's world-wide marketing activities. They are supported by thirty distribution managers around the globe. They remain in personal contact with every customers, something that has been found to be a very effective Marketing tool. At present MBS AG supplies 6,000 organization in 72 countries.

In the search for new ideas our designers and developers work closely with the engineering knowledge and expertise of engineering faculties in Universities and Colleges. And of course they work to make use of synergies thrown up by related companies. Top Management spends no less than one third of its work time engaged in employee improvement in innovation, and sets aside 24 days annually specifically for employee improvement.

This year in excess of 4,000 companies were interested in participating in the Top 100 selection process. Of these only 366 applied for the qualification round, and 284 made it to the final round. There are three classes under the Top 100 umbrella, with a maximum of 100 companies in each category. 238 companies reached Top 100 in all categories. These organizations were then assessed by Prof. Franke and his team at the Economic University of Vienna. They set above 100 parameters in five assessment categories: "Innovation Promoting Top Management", "Innovation Climate", "Innovation Processes and Organization", "Innovation Marketing/External Orientation" and "Innovation Success".

Of the organizations involved 97 are local market leaders and 32 world market leaders. On average they derived 40% of their turnover from new products and product improvements. Their turnover increase was 28% above the average for their trade. In total 2,292 national and international patents were logged by the medium size companies. This innovation vigour was also reflected in the number of jobs created. The Top 100 are planning to create approximately 9,500 new jobs within three years.

The mentor of Top 100, the economic journalist and TV- moderator Ranga Yogeshwar was seriously impressed by the quality of the entrepreneurship, and expressed the hope that it would find an echo in other companies. The methods of the Top 100 should be applied across the board to generate new ideas and adapt them to find new openings for products, and to develop new applications. Any feedback would be welcome. Hopefully, this success will encourage other entrepreneurs to follow suit. It is hoped that the Innovation culture will become more significant in future as far as all entrepreneurs are concerned.